It's estimated that smart devices are in at least 37% of all homes in the United States. Thanks to advancing technology and the internet of things (IoT), devices are able to connect to the internet and complete different tasks we never thought possible.
From smart speakers that tell you the weather and robot vacuums that can detect dirt and clean floors automatically to home appliances and air conditioning systems you can manage from your phone, smart homes are becoming more and more possible thanks to cutting-edge products from smart home companies like Honeywell, Samsung, Sony, and Siemens.
As demand increases for smart home devices and home automation systems, so too does the number of choices that are available on the smart home market today.
With all this in mind, let's look at some of the best smart home solutions and how they can significantly transform the functionality of your home.
Smart Home Security Systems
Home security has always been an important concern for Americans. Security cameras, motion detectors, and other security devices can alert homeowners of any suspicious activity and keep intruders out.
But smart home security systems take things a step further. Below are smart home security products that can give you peace of mind.
DIY Home Security with SimpliSafe
SimpliSafe offers a budget-friendly DIY home security system. Yet, the relatively low price point doesn't sacrifice the features of this dynamic system.
For example, what's unique about this product is that you can personalize it to your needs. You'll get the customary Base Station and Keypad, and add on additional features, including:
Entry sensor
Motion sensor
Indoor camera
Glassbreak sensor
Panic button
Smoke detector
Carbon monoxide detector
Temperature sensor
Water sensor
ADT Command
ADT Command has all the bells and whistles of a robust smart home security system, plus more. While it's not the cheapest system on the market, this product allows you to monitor your home all from one device. The home security touchpad comes with 24/7 video monitoring. allowing you to keep an eye on your system.
Key features:
Works with Amazon Alexa and Google Assistant
Comes with three cameras
Home automation integrations
ADT mobile app
Vivint
The Vivint Smart Home Security System allows you to cover every aspect of smart home security, from video doorbells and security cameras to smart locks and garage door openers. Before equipment installation, Vivint's technicians will come out and give you a free in-home consultation.
Key features:
Mobile app
Smart Hub with live camera feeds and remote access
Smart home customization
Smart Home Displays & Home Assistants
Smart home displays and home assistants are great for managing your smart home via voice controls. From displaying useful information throughout the day — like weather, upcoming appointments, and your grocery list — to playing music or video, smart home displays offer a range of hands-free voice assistant features.
If you're interested in these products, the ecosystem includes quite a few smart home assistants to explore.
Amazon Echo Show 8
Featuring a bright 8-inch touch display, powerful speakers, and a built-in camera, the Amazon Echo Show 8 lets you view recipes, video tutorials, upcoming calendar appointments, and more.
Key features:
13-megapixel camera
Security camera feeds
Video calling capabilities
Google Nest Hub
The Google Nest Hub is a consumer electronics product that markets itself as the "center of your helpful home." From being able to catch up on Netflix shows to helping you wind down and wake up, the Nest Hub can truly transform the functionality of your home.
Key features:
Integration with compatible smart home technology
Hands-free operation
Music on-demand
Sleep tracking
Other best smart displays
Facebook Portal
Amazon Echo Show 15
Lenovo Smart Clock
Smart speakers
Smart speakers have been around for a while and are still popular devices people love to use around the home. Let's look at some of the best speakers to consider adding to your smart home system.
For Google Assistant users
Nest Audio
The Nest Audio integrates with Google Assistant and delivers clear, detailed sound in an attractive design and makes a fine addition to your smart home hub.
Echo One
The second-generation Sonos One is a compact smart speaker with Google Assistant functionality. This speaker has powerful sound despite its small size.
For Alexa voice assistant users
Echo Studio
The Amazon Echo Studio is more than just a speaker. Aside from integrating with Alexa Voice Assistant and being voice-operated, the Echo Studio also features a built-in Zigbee home automation hub, allowing you to control multiple devices.
If you're looking for something that's a bit simpler, the Echo Dot could be a good choice.
Smart home care products
There are plenty of smart home care products out there that can help automate home control and maintenance, saving you lots of time and energy.
Roomba Robot Vacuum
The Roomba Robot Vaccum is a robotic vacuum cleaner that does all the heavy lifting for you so you can handle other cleaning chores. This vacuum features built-in sensors that allow it to detect dirty floors and prevent it from bumping into walls and furniture. It was also designed with energy efficiency in mind and requires little juice to do its job.
Smart air purifiers
Smart air purifiers are great for homeowners who want to keep a close eye on their indoor air quality. These smart devices can connect to WiFi and Bluetooth and integrate with a mobile app, giving you plenty of control.
Top picks include:
Dyson Purifier Cool TP07
Aura Air
Coway Airmega 250S Air Purifier
Best pet cameras
With smart pet cameras, you never have to worry about leaving your furbaby home alone again. With remote monitoring, you can keep an eye on your furry friend with a mobile app, making this an ideal smart gadget for pet lovers.
There are plenty of smart pet cameras to choose from, including:
Furbo Dog Camera
Petcube Bites 2 Lite
Eufy Indoor Cam 2K Pan & Tilt P24
Wyze Cam V3
Smart home efficiency products
If you want to reduce your energy costs, consider smart home efficiency products like smart thermostats, smart lighting systems, and smart plugs.
Smart thermostats
Smart Thermostats — like the Nest Learning Thermostat and Ecobee — automatically adjust heating and cooling temperature settings in your home for optimal performance. These little devices are highly effective in delivering energy savings.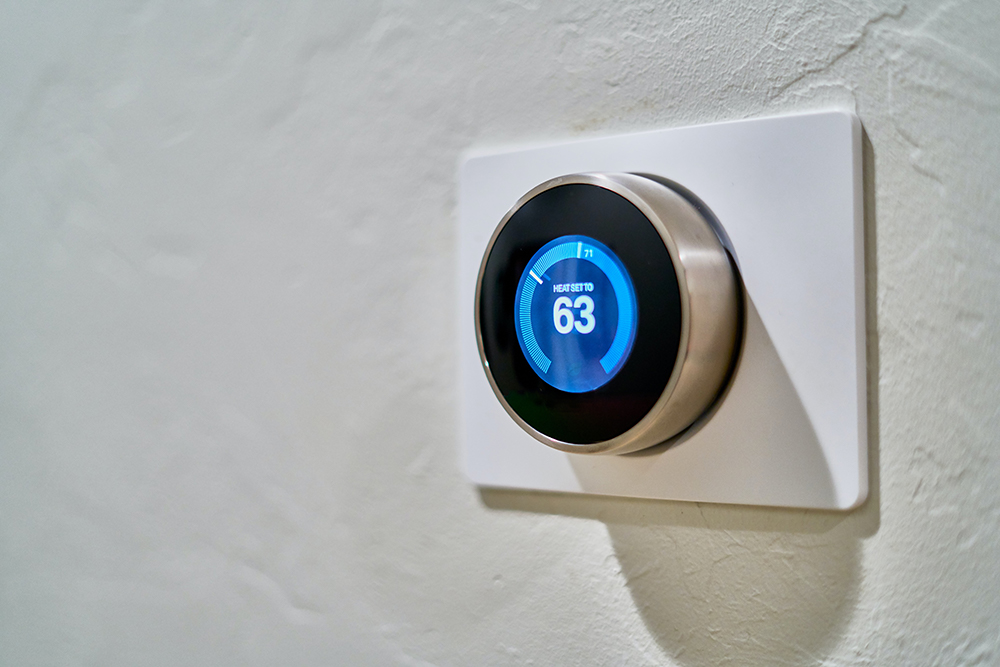 Best smart bulbs
Smart light bulbs are LED light bulbs that you can control using a smartphone, tablet, or smart home automation system. Some smart light bulbs allow you to manage your lighting preferences with simple voice commands and remote controls.
Popular choices include:
Wyze Bulb Color
Sengled Smart Wi-Fi LED Multicolor
Yeelight Smart LED Bulb (Color)
Philips Hue
Best smart plugs
A smart plug allows you to turn almost any wireless appliance with an on-and-off switch into an automated one. That way, you can turn those appliances on and off with a simple tap on your phone or voice command.
Below are some of the best smart plugs:
TP-Link Kasa Smart Wi-Fi Power Strip HS300
TP-Link Kasa Smart Wi-Fi Plug Mini EP10
ConnectSense Smart Outlet 2
Last words
The modern home has evolved into a space that's more connected than ever. With internet connectivity capabilities, inanimate objects powered by artificial intelligence can bring a level of functionality to the home like never before.
Craving more information about what you can do to automate your home? Sign up for more homeowner tips and enter to win a free Home Depot gift card.